Bread Sauce
Ingredients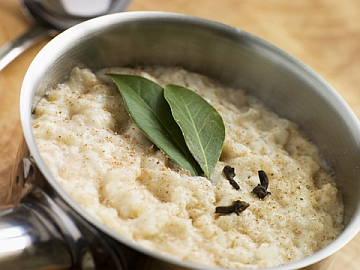 400ml / 14 fl oz milk
1 onion, peeled and cut in half
2-3 cloves
1 bay leaf
5 black peppercorns
1/2 teaspoon of salt
grated nutmeg to taste
50g / 2 oz breadcrumbs
25g / 1oz butter
You'll also need a heavy bottomed pan with a tight-fitting lid.
Preparation
Ideally, start your bread sauce the day before you want to serve it. The flavour will really be soooo much better!
Pour the milk into the pan. Add the salt, peppercorns, bay leaf and nutmeg.
Push the cloves into the halved onions and add these to the milk, too.
Bring the milk to the boil, then remove from the heat, clap on the lid and leave to infuse; the longer the better, but at least for half an hour.
When ready to continue, lift out the onion and spices with a slotted spoon, or strain the milk through a muslin or fine sieve.
Return the milk to the pan and add the breadcrumbs.
Bring the mix to the boil, then turn down the heat and leave to simmer for 10 minutes or until the mixture is thick and creamy.
Stir in the butter and keep warm until ready to serve.