Chicken Satay (Satay Gai)
Although satay (or sate, satae) is not Thai in origin, in Thai restaurants it is one of America's favorite dishes. Originating in Indonesia, this hawker fare (street food) has been adopted and adapted in many Asian countries. This recipe uses chicken, the most popular type of satay, but you may also use any other type of meat like pork, beef or even tempeh.
Chicken Satay
Satay is simply marinated meat, skewered, and charcoal-grilled and served with peanut sauce. What makes this recipe for Satay marinade particularly delicious is the use of whole dried spices. Dry-roasted and ground in a mortar and pestle, the flavor is tastier, fresher and bolder than ground spices. (Find out the best way to dry roast spices). Read more about satay in our Thai cooking tips section.
Ingredients
* 1 1/2 lb. boneless chicken breast
* 1 tsp. whole coriander seeds
* 1 tsp. whole cumin seeds
* 1 tsp. ground turmeric
* 3-4 shallots, peeled and sliced thin crosswise
* 1 stalk fresh lemon grass, sliced thin crosswise
* 1/4 inch piece of fresh galangal
* 1 clove garlic, peeled and smashed
* 1/2 tsp. sea salt
* 2 tsp. sugar
* 20 bamboo skewers
* 2 Tbsp. cooking oil, canola or peanut
Preparation
1. Slice chicken into long thin slices, approximately 1/4″ thick and 2″ in length. Pat dry with paper towels.
2. Dry roast coriander seeds for a minute or two in a wok over medium heat to roast lightly, stirring often.
3. Grind the coriander seeds in a mortar and pestle or electric coffee grinder (reserved for spices).
4. Combine all the spices with the shallot, lemon grass, galangal and garlic together in a bowl.
5. Add chicken pieces to the marinade and mix well to cover meat. Allow to marinate for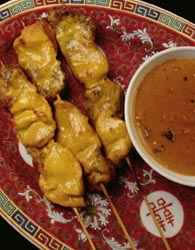 at least an hour or up to overnight.
6. Before cooking, soak bamboo skewers in water for at least 10 minutes, so that they will not burn.
7. Skewer 2 to 3 pieces of chicken onto each stick. Grill over a hot fire until cooked through. Baste with cooking oil after turning.
Notes:
Serve with MaeSri Peanut Sauce, Sticky Rice and a simple Thai Cucumber Salad. Instead of chicken you may also use pork, beef, tempeh or tofu in this recipe.